Enjoy savings and more freedom to explore when bundling a car rental with a Delta Vacations getaway. Plus, earn bonus miles, on top of flight miles, with every qualifying paid rental with Alamo® and National®. Preparado. Set. Hit the road to witness all the sights and action a vacation can muster. Choose from one of our internationally recognized partners below.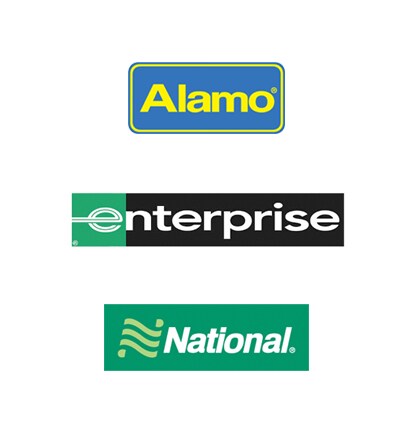 Throughout the U.S., Canada, Mexico, the Caribbean and Central America, Alamo satisfies rental needs with fun and friendly service; low-cost, high-value vehicles; and a hassle-free customer experience.
In most U.S. locations, quickly and conveniently choose vehicles, based on advance reservations and requested car class, and drive away from the airport.

Within the states of California or Florida: fly into one city, drive to another, and fly home with no drop fees.

Enjoy unlimited mileage on a rental vehicle in most locations.

Driver earns 500 miles per rental, plus 200 bonus miles per day, through the SkyMiles® Program in the U.S. and Canada.

Incredible customer service and savings to match — that's the Enterprise way. Customer service ranks as the top three in the industry consistently each year by JD Powers. Take advantage of the largest selection of vehicles and sizes in the most popular on- and off-airport locations throughout Europe and North America.
Add an authorized driver (spouse, partner or surrogate driver) for no additional fee in the U.S.

Enjoy unlimited mileage on the rental vehicle in most locations.

Customize coverage with Inclusive and Super Inclusive plans in Europe.

Enjoy Value Added Tax (VAT) and the Collision Damage Waiver (CDW) in Europe to reduce personal responsibility for the rental.
Términos y condiciones:
Delta SkyMiles Membership number must be provided during pick up at the rental counter. The car must be rented in Member's name to earn mileage. Solo se le acreditarán millas a un socio SkyMiles por alquiler de autos. Offer valid for rentals picked up at participating Alamo® or National Car® Rental locations in the United States and Canada. Espere entre 6 y 8 semanas después de completado el alquiler que califica para que las millas se acrediten en su cuenta.
SkyMiles is a registered trademark of Delta Air Lines®. Delta may change the SkyMiles Program rules, change or terminate program partners, regulations, benefits, conditions of participation or mileage levels, in whole or in part, at any time, with or without notice, even though changes may affect the value of mileage already accumulated. Delta puede cancelar este programa en cualquier momento, con o sin aviso. Todas las reglas del programa SkyMiles se aplican a la membresía, las millas, las ofertas, la acumulación de millas, el canje de millas y los beneficios de viaje del programa SkyMiles. Ofertas nulas cuando la ley las prohíba. Pueden aplicarse otras restricciones. Para conocer las reglas, visite delta.com/memberguide.